Alright, so here's the plan. You have from now until camp to build armor, swords, tanks, ships, catapults, or whatever else you can manage to bring with you for an all out box battle. On the evening before each session ends, we'll have an all out battle until nothing remains.
Here are some things to keep in mind:
Don't be an asshole. It'll get a little rough out there, but this is not a blank check to start throwing punches, or taking actions that are intended to hurt other players; which brings me to my next point.
This is a big, silly brawl, and you may get hurt. If you want eye protection or a helmet, bring it. You've signed the waiver and are on your own for any injuries you sustain during camp. Some activities carry inherent risk, and this is one of those.
Box Battle is BYOB (bring your own boxes). You'll be busy with regular camp activities, and won't really have time to create something big from scratch during camp. Also, we cannot logistically provide enough cardboard for everyone to build their dreams out of cardboard. Build it at home, assemble/finish it at camp. This is kind of a bummer for people flying in, so if you have your heart set on participating, I suggest joining our Facebook Group, then asking if someone is willing to bring some extra boxes to camp, and working on it in the evenings.
I don't own any good images for this, so please enjoy my magnificent work of "art".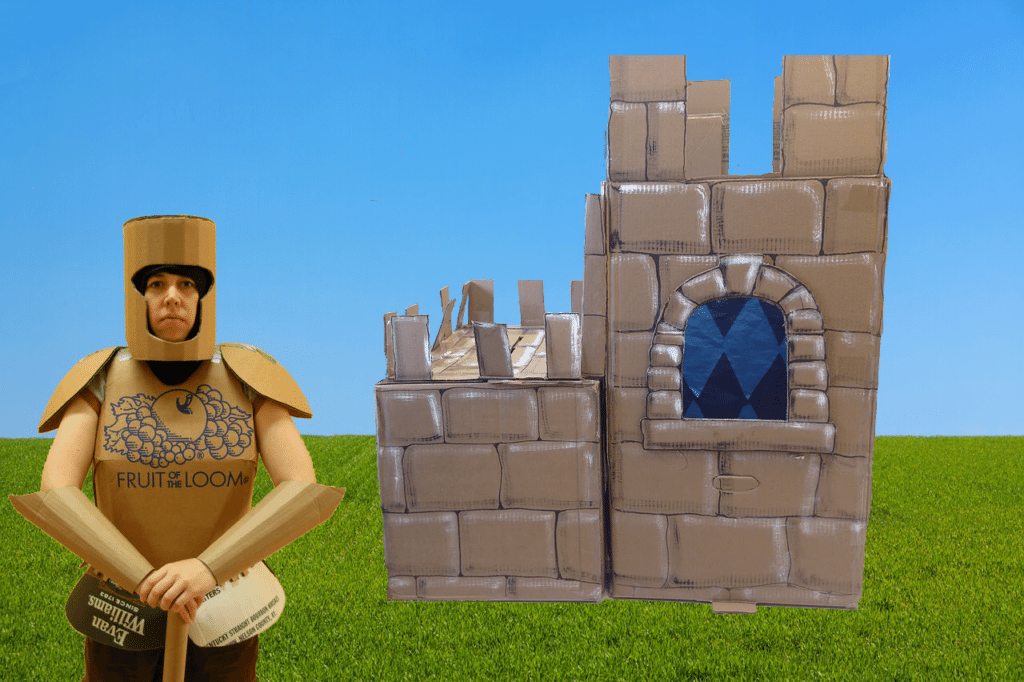 PLEASE REUSE BOXES FOR THIS! Don't go out and buy new boxes. There are plenty around that friends, family, and even stores would be happy to unload on you.
Nobody really "wins" at Box Battle. It's kind of like one of those sand art mandalas. You spend a lot of time making something impressive and beautiful, then destroy it. There is beauty in the breakdown.
Start hoarding those Amazon boxes and planning how to transport a cardboard tank to camp….
Photo Credits: Armor by Instructables.com, Castle by me (Kim Kjessler), Background by Pixabay
All costumes must be built using at least 90% cardboard and glue/tape. String, rope and papers are also allowed, but no other materials may be used.
CARDBOARD:
Any style or thickness of reclaimed cardboard can be used. You must remove all staples (if any) on the box.
TUBES:
Tubes are good to use for handheld weapons. You can use any style of tubes as long as they are not too hard. Tube thickness for weapons can be between 4-5 millimeters thick and must not exceed those measurements. Tubes used in armor do not have to adhere to these limitations.
GLUE:
Glue may be used to join together bits of your costume. Hot glue works well, and gives an overall cleaner appearance than tape.
TAPE:
Duct Tape is best, but any kind of tape is fine, as long as it does not have a sharp edge. Metal tapes are not allowed.
CLOTHING:
Wear comfortable clothing. Cloth can be used to personalize your costume to a degree. Cloth can not interfere with your costume by reinforcing it from the outside. Cloth can not be attached to the neck but can hang from ones wrist or waist to the length above ones kneecaps. Example: Capes are ok, but cannot be around the neck. You can attach them to your shoulder pads, and they cannot reach below your knees.
MASKS/ EYE PROTECTION:
Masks, helmets, and other protective facial gear does not need to be cardboard.
Roped weapons, such as morning stars, are prohibited

The thickness of tubes in the use of weapons must not exceed 5mm

The use of metal, or metallic tape with sharp edges is not allowed.
At ENC, adults who enjoy gaming, fantasy, and sci-fi can spend up to a week playing tabletop games, live action role-playing, and doing activities IRL that characters do in-game.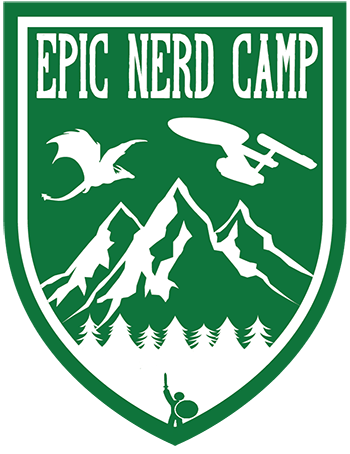 Geek
Summer Camp
For Adults
AUGUST 12TH-16TH & 16TH-20TH
STARRUCCA, PA