We're SO EXCITED to be offering mermaid lessons at Epic Nerd Camp, but try as we might (and believe me, we tried) to get our own line of mermaid swim gear this year, problems with manufacturers have prevented us from doing so. We were hoping to have some affordable mermaid tails available for purchase (not for rent, because that part is a bathing suit part… ew….gross).  We have monofins (the flipper part that goes on your feet), but if you want to look 100% like merfolk, you're going to want to get the tail (spandex-y) part, or some leggings.
Swimtails offers the tails in sizes that go up to 4XL. I took some measurements, and I'm reasonably sure that our monofins will fit their tails. Finfun is another option that uses a monofin that is much more similar to ours, so I'm reasonably certain they'll also fit. Leggings, of course, do not have to go over the fin, so any that are swimmable will do.
We DO NOT have any relationship with either of these companies, and there are certainly other mermaid tails out there, these are just some options I found during my "mermaid tail research". Our monofins are 21.5″ x 14″ x 7″, so consider that when ordering.
At ENC, adults who enjoy gaming, fantasy, and sci-fi can spend up to a week playing tabletop games, live action role-playing, and doing activities IRL that characters do in-game.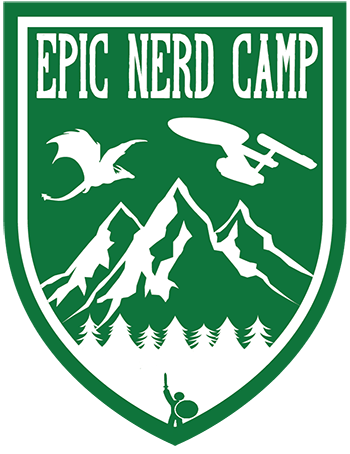 Geek
Summer Camp
For Adults
AUGUST 12TH-16TH & 16TH-20TH
STARRUCCA, PA