Estate Liquidation Sale for the TV Series Grimm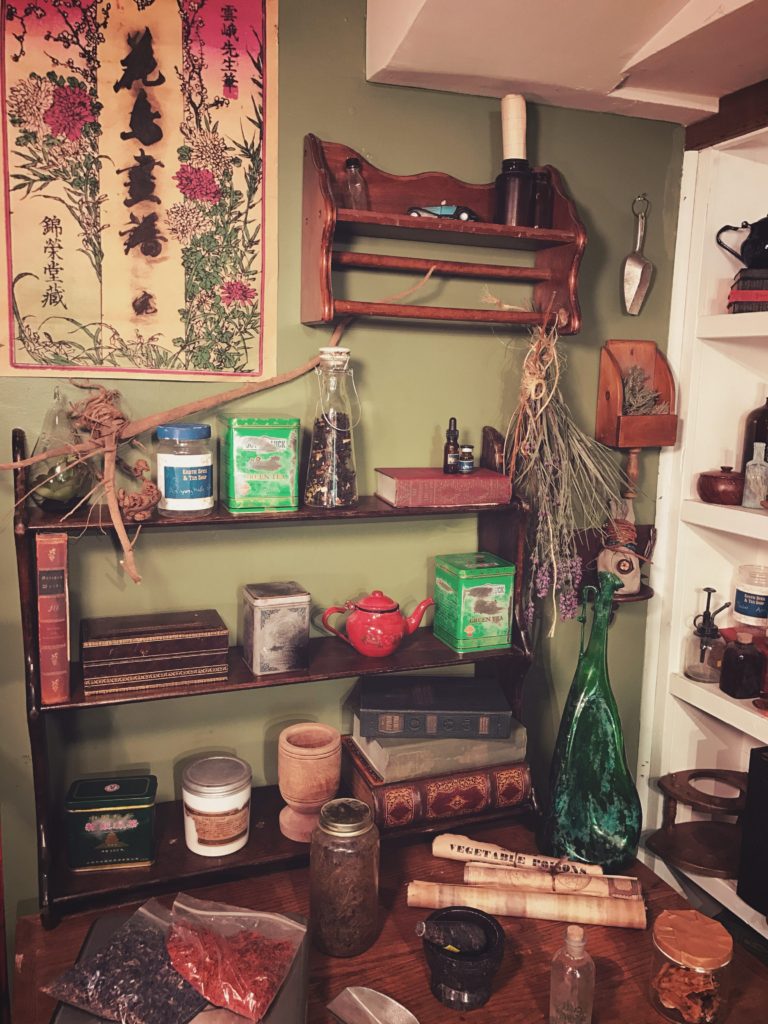 My house/ Spice Shop. I'm crazy, I know.
From March 11th-19th the tv series, Grimm, sold off the bulk of their props in a warehouse in downtown Portland, Oregon. I went…. too many times.
Given that we aren't particularly morning people, we decided that we'd skip sleeping in hopes of getting a good spot in line. We arrived at about 3 AM, and there were about 20 people in front of us in an assortment of tents, hammocks, and camp chairs with lots of blankets and things to be comfortable. We didn't have any of those things, so we sat on a ledge and chatted to the people in line around us (which is definitely one of the high points of any line at a fandom related event). As it started to rain, they ushered us under two tiny canopy tents, assuring us that we wouldn't lose our spot in line, but (long story short) people from further down the line crowded into tent 1, and a group of sleep deprived-grumpy-cold-rained on- Grimm fans almost had to rumble with tent 1 invaders. I was delirious from lack of sleep at that point, and kept yelling "I'M WATCHING YOU, TENT ONE!!!" and doing the thing where you point to your eyes and then at them. It wasn't my proudest moment.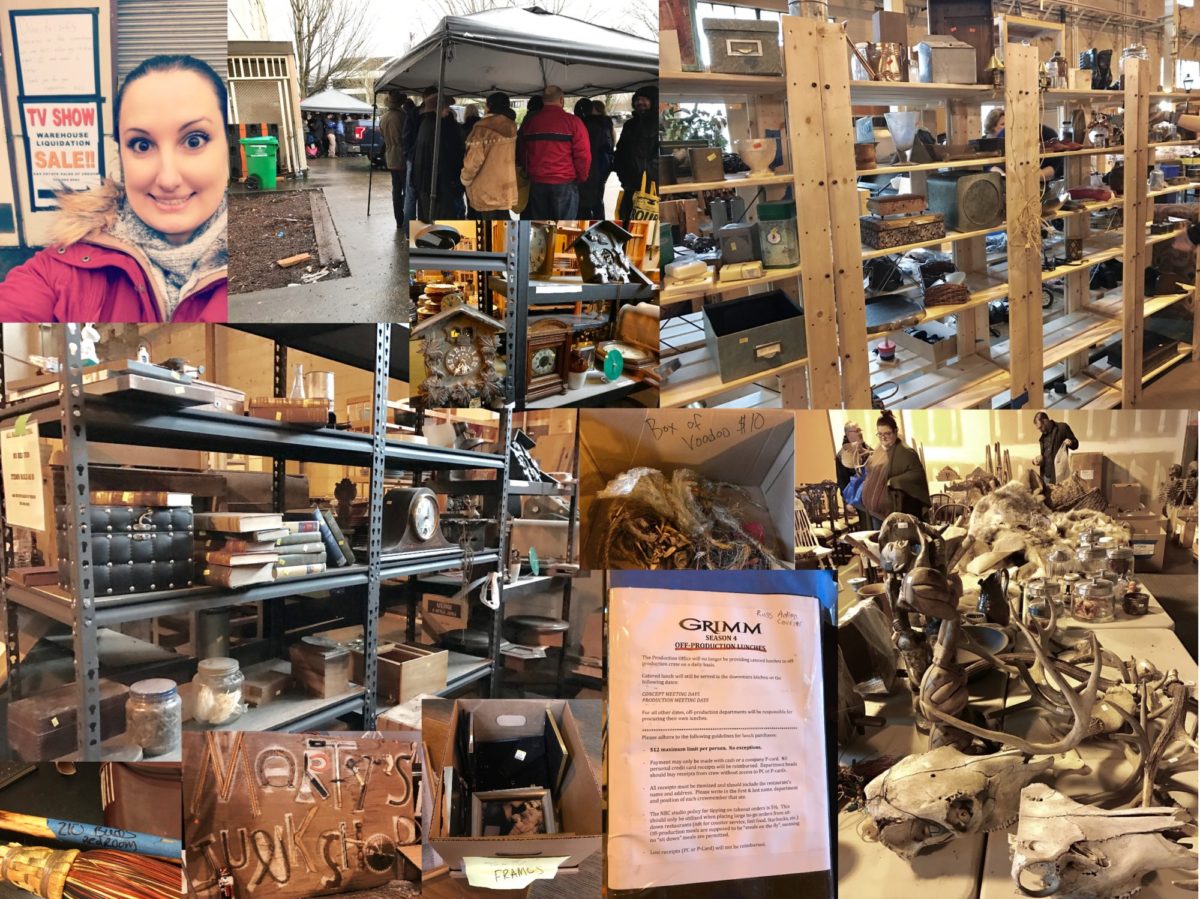 When we finally did get in, it was like Supermarket Sweep. Everybody ran off in different directions. I cannot possibly relate to you how much stuff was in this place. I mean it was just So. Much. Stuff. I just couldn't even process it all. There were the things you'd expect, and then there were TONS of household items like wine bottle openers, coffee makers, cold and flu medicine, motor oil, etc… Lamps… I've never seen so many lamps in my life. I've since decided I could never make a tv show because I could never afford as many light fixtures as it (apparently) takes to make a show. There were tons of animal furs, skulls, and antlers that seemed out of proportion to how much they were in the show.
I headed straight to where I thought that Rosalee's spice shop inventory might be, and found it fairly quickly. Most of the jars were just random jars of random stuff that were unlabeled. I didn't see anything that I really recognized, so I grabbed a very cool looking big bottle and a few bottles with labels, one of which actually said "Exotic Spice and Tea Shop", which was very exciting for me. I lugged around a heavy, wooden mortar and pestle for a while, but it was $27 and was seldom seen on the show. (Or so I thought….I was wrong..#regrets.)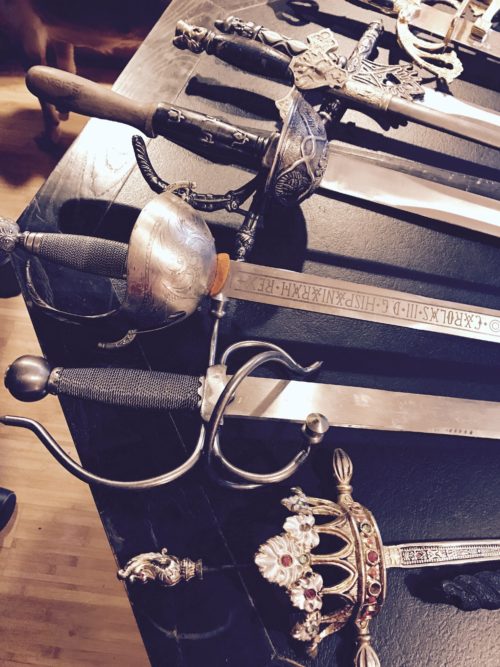 Then, I came across a recipe book and a stamp collection which were unpriced. I seem to recall Monroe getting out his stamp collection in an episode, and the recipe book is very Rosalee. If they are what I think they are, they're a pretty big score.
Bentley (my husband) had booked it to a back room and scooped up all the swords he could find, which turned out to be a lot of swords. One of the daggers was definitely in the weapons closet in the trailer when it burned. At first, I was like "we're not going to buy ALL of those swords." and then I was like "eh, who am I kidding? Yes we are!" because….. they're swords…
We had learned that a bajillion trucks carrying the "key props" for the show had been sent down to Los Angeles, which meant that none of the Grimm books were there (which was what I, and many other people, were after.) However, randomly opposite the lamps there was a shelf with these babies, which I snatched up right away. They're blank, but it's still a total score.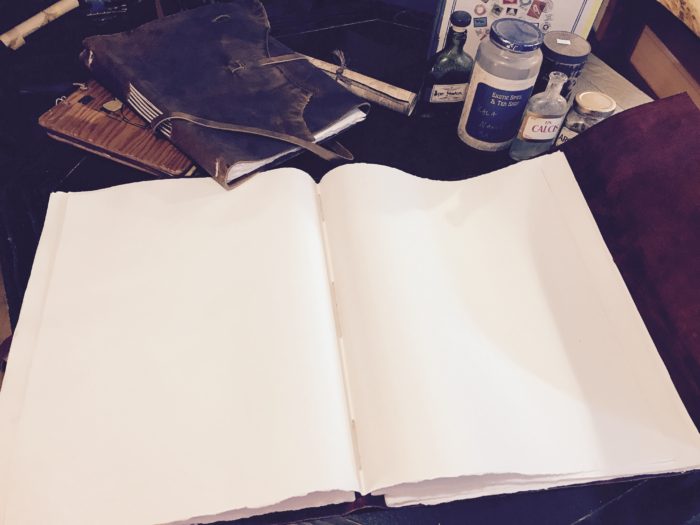 For $1,250 you can get one of the beat up shelving units that is allegedly from the spice shop with some odds and ends. It eventually sold, but it sat under a leak for a while.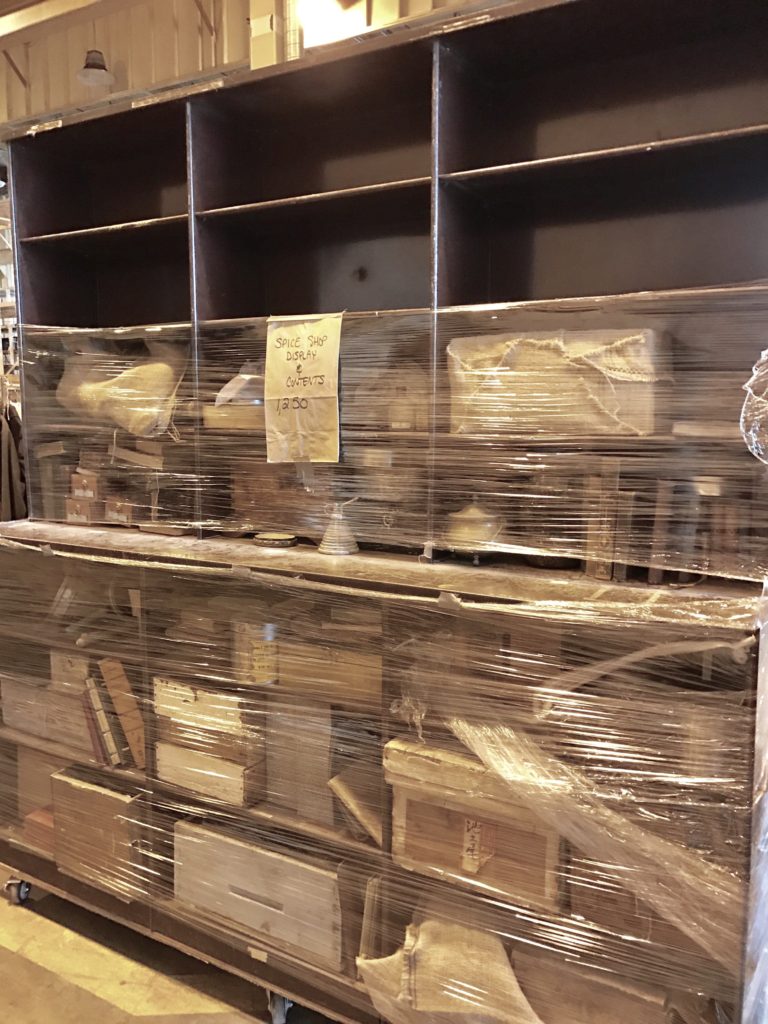 Old books, clocks, records, and clothes abound. I almost bought a food scale for $9, and I did buy a regular journal for $3, because why not.
Rollerblades, guitars, trophies, sporting goods, paintings, and so many MANY cool boxes.
On second thought…. does that scale look familiar… HECK YES IT DOES!! The other scale from the spice shop sat there without it's cradle until the very last day.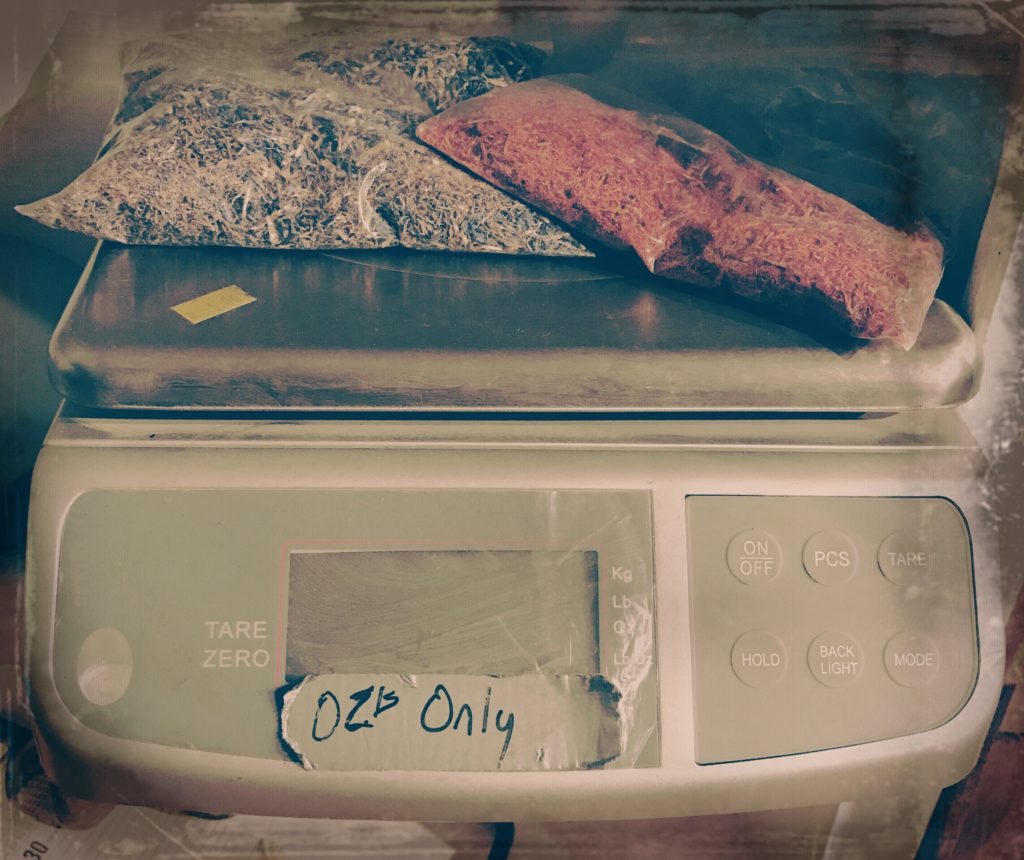 Real talk: we went to all but two days. So, basically we were there all the time. If you have questions on whether you think something is legit or not, I'll give you my input. I saw most of it, and there are bottles on eBay that I've never seen on screen or in the warehouse sale. There were NO certificates of authenticity, so let that be a red flag right there. The best you'd get is a labeled bag or perhaps a paper or piece of blue painter's tape with the episode number and location.
It was SO DISORGANIZED, which was great for me. Since it wasn't categorized by importance, you had to KNOW what you were looking at to know the value in relation to the show. Can you believe that someone abandoned the wooden sculpture from the trailer in the checkout line?!
The reason you don't see an influx of important props on eBay is because most of the people who went weren't fans. Not everyone is going to be crazy like me and recognize the phones that precinct used (even though they peeled off the stickers) and think to plug them in to see if they had wiped the wallpaper memory.
They were still unpacking new boxes well into the week, enticing me to keep returning to see what was left. A lot…..A lot was left. I saw a box labeled "coo coo clocks" and HAD to ask. The dude that ran the thing was like "sure" and we got a complete cuckoo clock! All the other ones I saw were incomplete or downright broken. SCORE!!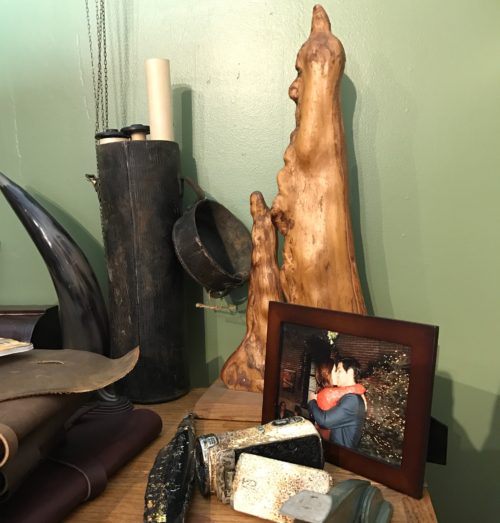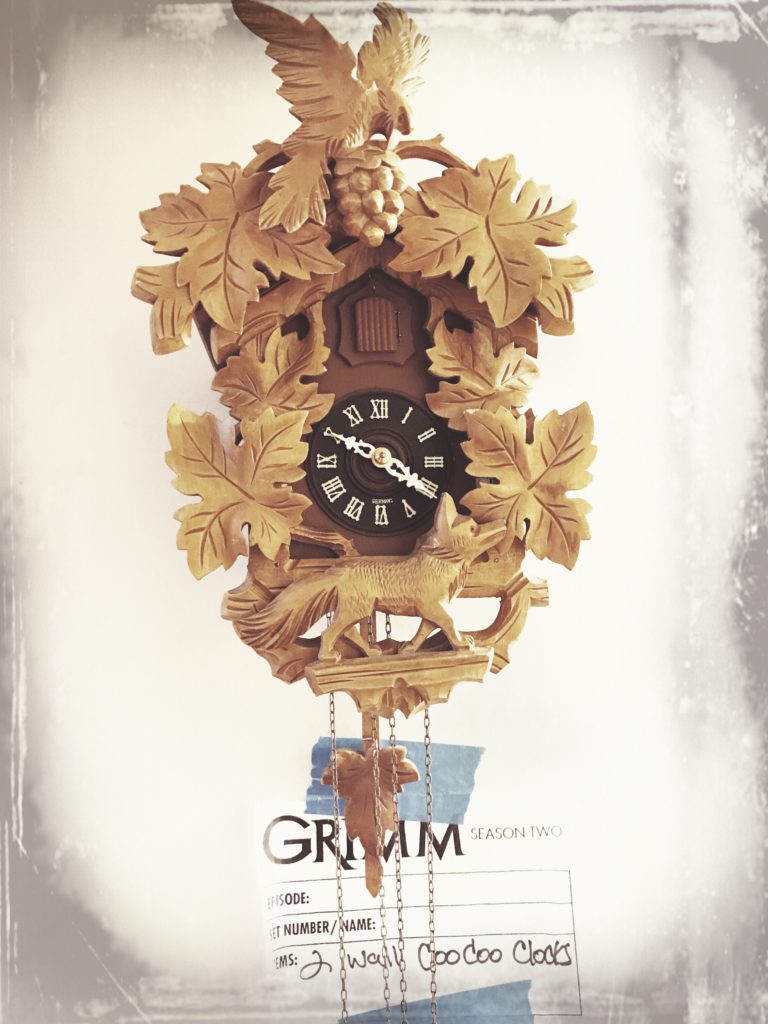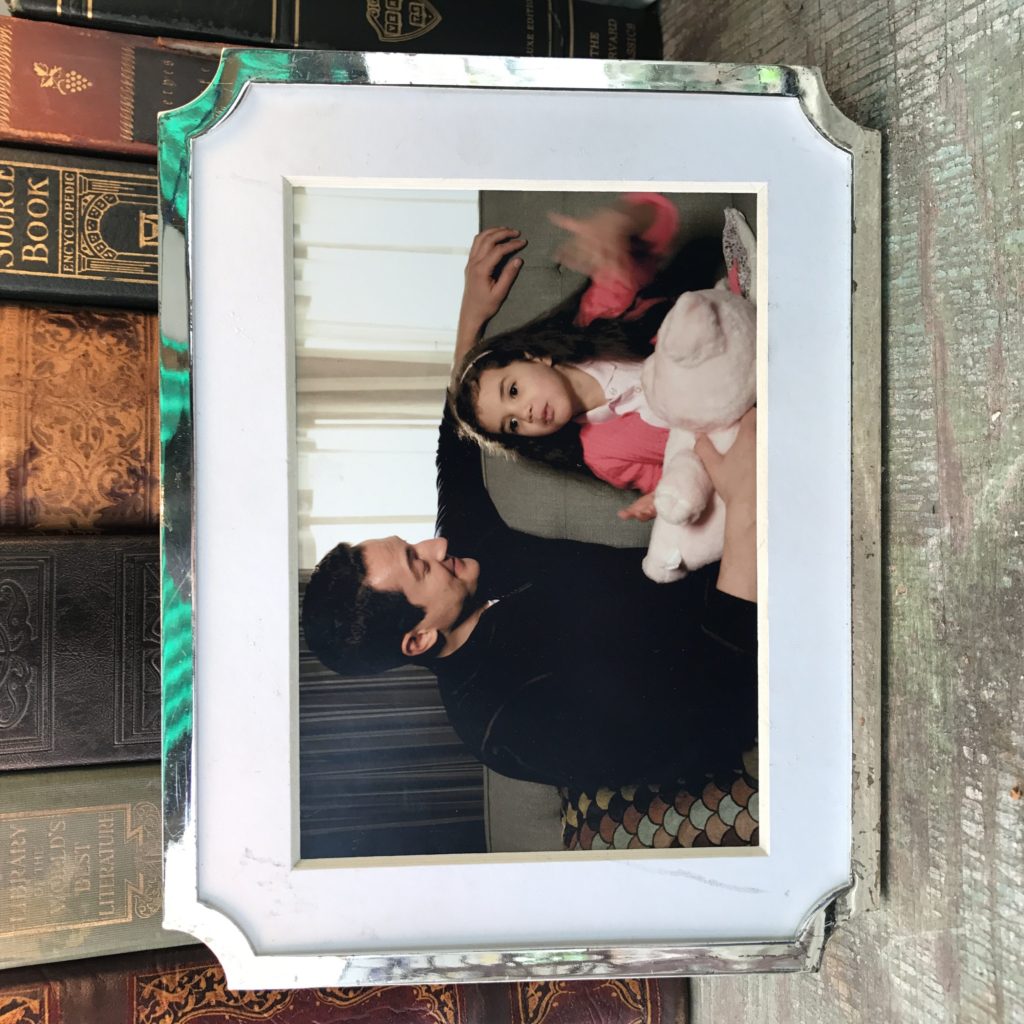 Apparently, Sean Renard was meant to have another daughter at the beginning of the series. They made some props which actually made it into the show, but decided to ditch the storyline. *I* have the picture of him with his daughter that never was. It was in a random box labeled "5×7 photos" along with the photo of Juliette and Nick kissing, which I definitely remember seeing on screen. Crazy!!
We ended up with 2 of Monroe's clocks, a ton of stuff from the spice shop, and a bunch of stuff from the trailer, some of which was even burned. Later in the week we dove into the clothes. At first, it was at the behest of someone in a Grimm Facebook group, but quickly spiraled into more clothes than we know what to do with. My mission for the week is to identify the ties. So far, I've found one…..yay.
So, what are we going to do with all this stuff? If I had an Airstream trailer, I'd put it all in there and make a LARP. I plan to take some of it to Epic Nerd Camp in August, where it will be incorporated into a LARP. Some of it will go up on eBay, as we need to recoup some of what we've spent.