My mom dropped me off at camp. I was a 27-year- old independent woman living in New York City and I had my mom drop me off at camp.
It was for two reasons – first to save money on a shuttle or bus ride, and second because I was super nervous. Now, I have friends, I have a great job, and I consider myself pretty well adjusted. But the thought of going to Epic Nerd Camp all by myself was nerve wracking. When I first saw the ad pop up on my Facebook feed, I knew I needed to go. This was my JAM – summer camp AND nerdy stuff!? I banished impulse control and bought the tickets 15 minutes later. But as the date drew close, I was anxious and fortunate enough to have my mom nearby to simultaneously drive me and provide some moral support.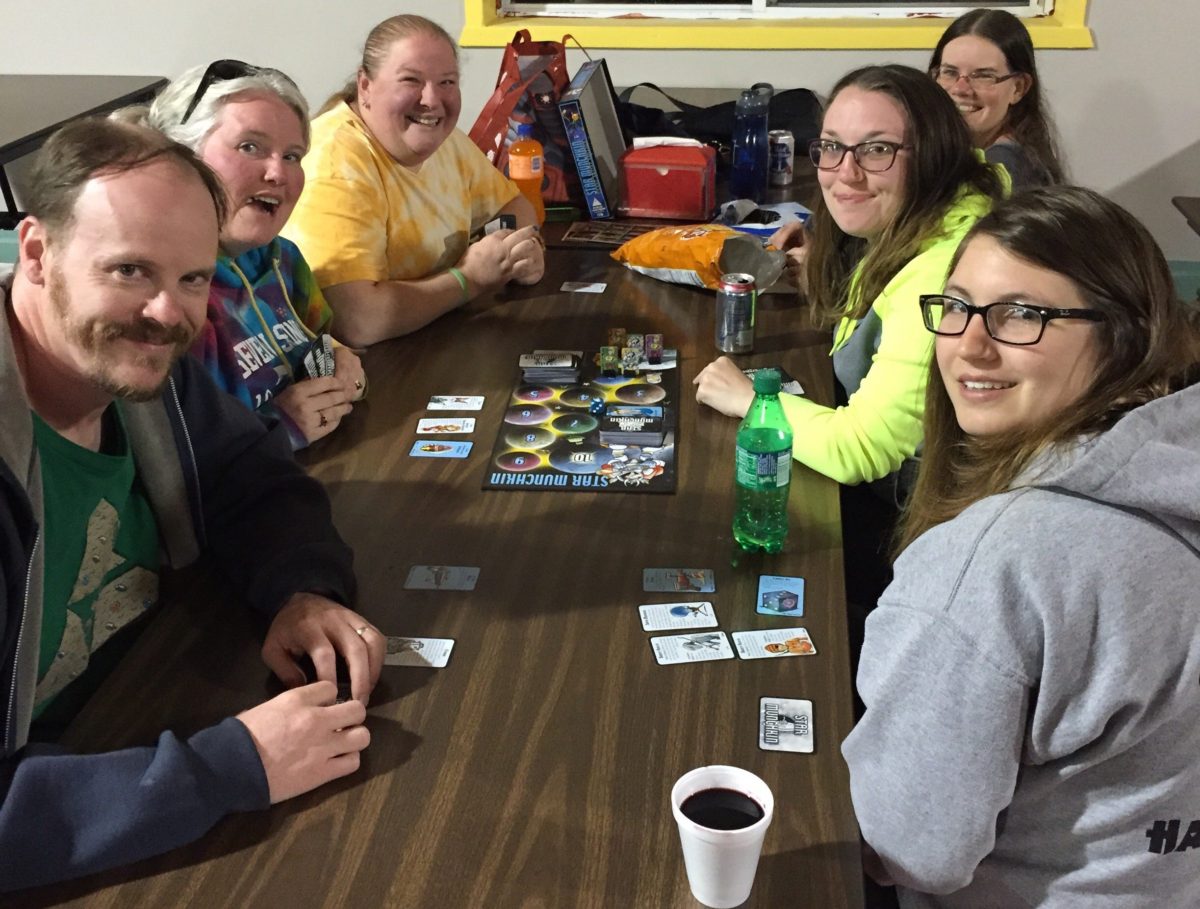 (I'm the brunette with the glasses. lol.)
The nervousness didn't really start to kick in until a couple weeks before camp. It was about that time that I realized I was about to spend an entire week sleeping, eating, and interacting with a bunch of nerds I didn't know. My social anxiety was ramping up the closer I got to the day of camp, and the night before I almost convinced myself not to go.
Words cannot express how glad I am I did go. I quickly noticed that I was absolutely not the only person there who was solo. As the days went on, I talked to more and more people, both fellow "solo artists" and those who came with friends or partners. At the beginning of the second session, a little group of us formed a bond that continues to this day (we call our group chat Wyld Magic: The Heavy Metal Knitters).
At Epic Nerd Camp, I didn't have to worry about being on my own or being in a group. I hung out with people at the activities and around the fire, but I also took some "me" time by the lake, in my cabin, or in the mess hall. I could alternate between being alone or being social at my leisure.
Was it scary to head off into the geeky unknown by myself? Absolutely. But when the week ended, I wished I could have stayed at camp forever with all the wonderful, amazing, and unique nerds I met. I knew then I had to return next summer, if not for the incredible activities like archery, trapeze, and chainmaille, but for the fantastic people I knew I would get to meet.
And yes, my mom picked me up from camp, too.
At ENC, adults who enjoy gaming, fantasy, and sci-fi can spend up to a week playing tabletop games, live action role-playing, and doing activities IRL that characters do in-game.