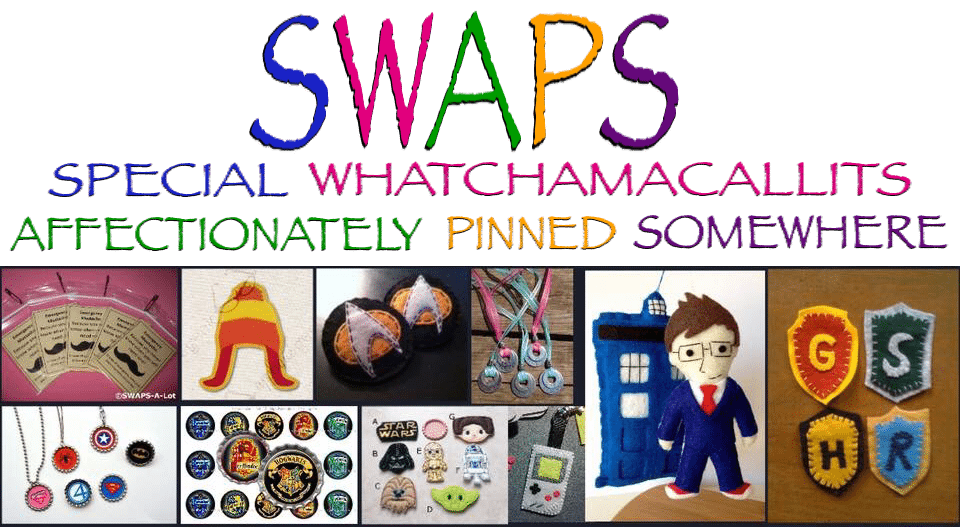 SPECIAL– SWAPS are a "collectible" representation of your likes and interests. While you don't *have* to make them yourself, it's strongly encouraged.
WHATCHAMACALLITS– Not to be confused with candy bars by the same name. They're more like "doodads" or "thingamajigs".
AFFECTIONATELY– This activity is about making friends.
PINNED-SWAPS should have a pin (ATTACHED WITH E600 GLUE) or some way to attach them to "somewhere".
SOMEWHERE– Ideally, you would pin all of your SWAPS onto a backpack, hat, (a cape maybe?) or "somewhere" visible so that everyone may behold the majesty of your collection.
SWAPS are an easy, fun, inexpensive craft that campers can create to express their unique self, celebrate their favorite fandom, or commemorate an event. SWAPS are a great way for a campers to express their creativity, make new friends, and make special memories. SWAPS are handmade crafts, often with a pin or keychain. They are your own personal trading pin, meant to exchange with others for their SWAPS.
What type of swap should I make?
It's up to you. Many campers make something fandom related. Pinterest has tons of boards just about SWAPS.
I'm not crafty, should I do this?
Yes! It doesn't have to be super fancy. They can be as simple as a few pieces of felt glued together. Trust me, you'll be fine; and you'll be super sad if you miss out on SWAPS for this reason.
How will I find other people who are swapping?
SWAPS are usually displayed on a hat, backpack, vest, bandana, or some other visible piece of clothing, however, these are usually the ones you have traded for, and want to keep. There will be a meet-up scheduled via our FACEBOOK GROUP,
Can I sell my SWAPS?
Not as SWAPS. If you have any items you'd like to sell, you'll want to participate in our Bizarre Bazaar. You can APPLY HERE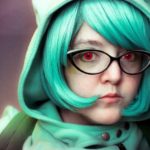 So I know a lot of people made SWAPS last year with non porous or heavy materials and hot glued pins to them.

I just wanted to give people the heads up, hot glue will pop off most non porous or heavy materials if strained. I had about 1/3 of my pins break last year because of the hot glue.

E6000 (sold at all craft stores) is the best to use for wood, plastics and metals. It takes a night to dry, but the results are better. I have used it to make a Portuguese knitting pin and that thing has not broken yet even under the strain of me knitting. I also used E6000 for my pins last year which were wooden disks made into hobbit doors.

Amazon.com has 1″ pin backs that are like $2 for 50 that you can just set down into the glue and leave it. So you don't have to worry about propping anything up in wet glue. You can look at the other price options for Amazon here.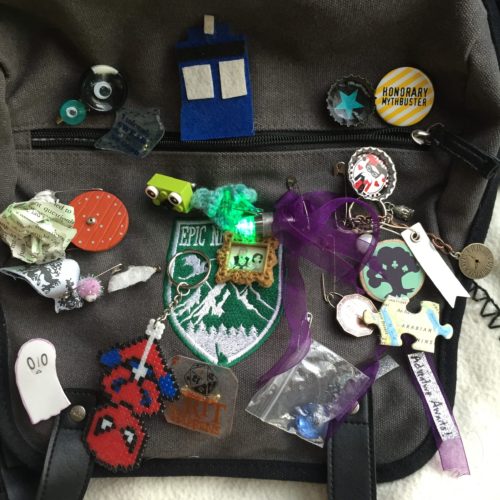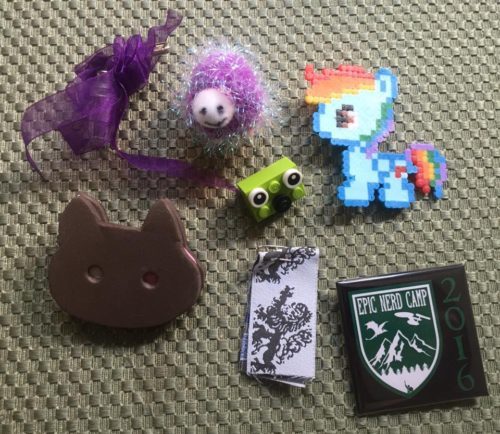 At ENC, adults who enjoy gaming, fantasy, and sci-fi can spend up to a week playing tabletop games, live action role-playing, and doing activities IRL that characters do in-game.